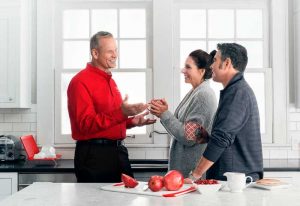 Energy Efficient Furnace
Serving Portland OR - Vancouver WA - Longview WA
In the winter, you rely on your furnace to keep your home comfortable. But with constant use, your furnace can contribute to some hefty utility bills. Enter high efficiency furnaces. High efficiency furnaces or energy efficient furnaces will save you money on your monthly utility bills. Plus, they are dependable and have long lifespans.
If you're in the market for a new high efficiency furnace, you've come to the right place. Apex Air is committed to helping you get the best value out of your HVAC system. Continue reading to learn more about the benefits of having a high efficiency furnace.
Lower Energy Bills
When a furnace works efficiently, energy bills will lower. If you're trying to see how much you'll save by installing a new furnace, you need to consider the unit's annual fuel-utilization-efficiency (AFUE) rating. Furnace energy efficiency is measured as a percentage which reflects its efficiency as well as its impact on the environment.
READY FOR A FREE ESTIMATE?
Leave your information below, and we'll be in touch in 20 minutes or less.
Near Perfect Energy Efficiency
Furnaces have become more energy-efficient in recent years, making them a sound investment for home and business owners alike. High AFUE units achieve 97% efficiency which is near perfect. Why not consider replacing your old furnace with something that will generate additional savings throughout the years?
Various Types to Choose From
When it comes to high efficiency furnaces, you have options. There are condensing furnaces, non-condensing furnaces, gas, oil, and electric furnaces on the market today. You may want to talk with an HVAC specialist to help you determine the best unit for your specific needs and their AFUE ratings.
Are High Efficiency Furnaces Worth It?
Yes! If you want to experience the highest level of comfort without impacting your utility costs, consider a high efficiency furnace. High efficiency furnaces provide a larger airflow and use less power, making them well worth the cost. Plus, installation only takes a day or two! View our range of gas, electric, and oil furnaces and contact us to learn more! We know everything there is to know about furnaces and other HVAC equipment and we'd love to share our expertise with you.
Back to Furnace Installation
High Efficiency Furnace In Vancouver WA & Portland OR
Serving the surrounding area
VANCOUVER | SALMON CREEK | ORCHARDS | BATTLE GROUND | RIDGEFIELD | CAMAS | WASHOUGAL | WOODLAND | LONGVIEW | KELSO | LA CENTER | HAZEL DELL | WALNUT GROVE | LAKE SHORE | CASCADE PARK | FIVE CORNERS | PORTLAND | GRESHAM | BEAVERTON | OREGON CITY | CLACKAMAS