We Keep You Cool
Air Conditioning Installation – Service – Repair
Ready for a Free Estimate?
"*" indicates required fields
Air Conditioning Contractors
Serving Portland OR - Vancouver WA - Longview WA
When it comes to air conditioning installation, Apex Air is the name you can trust. With over 55 years of combined experience in the HVAC industry, our highly qualified technicians bring a wealth of knowledge and expertise to each job. Whether you're looking to replace an old AC unit or you want to install an entirely new system, we will make the process as easy and efficient as possible. Your air conditioning system plays a vital role in your everyday comfort. Don't leave its performance up to luck – call Apex Air instead.
Our HVAC contractors are well-trained, certified, and experienced
We are licensed and insured
We provide written estimates and clear pricing to avoid unexpected charges
We have the knowledge to repair any AC brand and model
We offer warranties on parts and labor
We offer air conditioning maintenance programs
Locally Owned
Over 55 Years Combined Experience
We Design, Install, and Maintain
Don't Miss Out On Our Air Conditioning Specials!
We are always updating our specials. Click to see if one of our promotions applies to your air conditioning project!
READY FOR A FREE ESTIMATE?
Leave your information below, and we'll be in touch in 20 minutes or less.
If your air conditioning is malfunctioning or not working efficiently any more, it might just need a simple repair. Our technicians can fix most problems with affordable repairs, even for older units that are reaching the end of their lifespan. However, it's important to get professional assistance as quickly as possible to prevent the problem for getting worse. Keep an eye out for these common signs that your air conditioning needs repairs:
Strange sounds
Foul odors
Moisture leaks
No cool air
Constantly running
Low airflow
Notice any of those signs? Don't hesitate to give us a call! We'll inspect your unit, pinpoint the problem, and provide you with recommendations for next steps – along with a free estimate so you know how much repairs should cost.
Air Conditioning Installation
Installing a completely new AC system? Replacing an outdated or old unit? Apex Air is here to help. Our knowledgeable technicians make each step of the process as quick and easy as possible, from selecting the right unit for your household to optimizing airflow in each room. We have decades of combined experience selling and installing air conditioners, so we can help you find the best fit for your needs.
Dealing with serious AC problems? Apex Air is here to help - day or night! We offer 24/7 emergency HVAC service to ensure you always have the support you need. Malfunctions can happen at any time, but you don't have to worry. Just give us a call and we'll be right there.
Bryant Heating and Air Conditioning
At Apex Air, we're Bryant® Factory Authorized Dealers. Since its founding in 1904, Bryant® has been an industry leader in the heating and air conditioning industry. The company provides various, high-performance, energy-efficient air conditioners, heat pumps, furnaces, humidifiers, thermostats, and more. Everything you need to make your home comfortable and safe. They really strive to deliver the best products to meet your needs above else.
View Our Bryant Products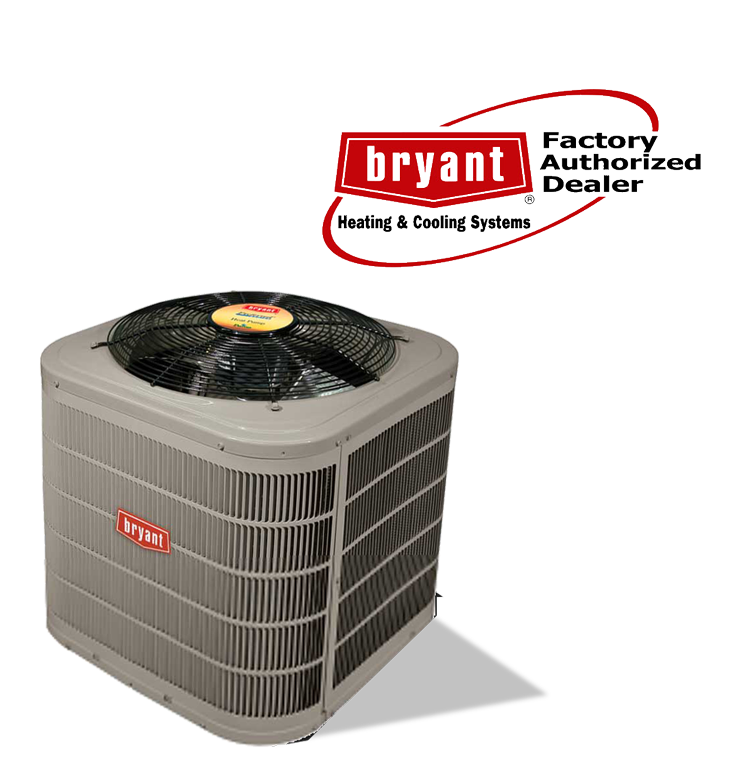 Ask Your Heating & Cooling Questions!
Leave your information below and one of our local HVAC specialists will be in touch with you shortly!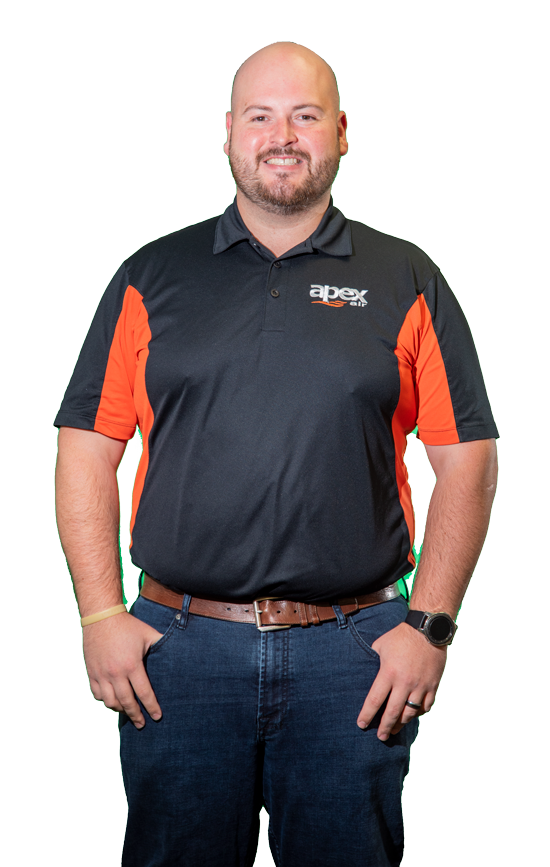 Signs You May Need a New Air Conditioning System
A new AC unit is a big investment, which is why many homeowners hold onto their old systems far longer than they should. However, waiting for your current system to completely fail before investing in a replacement could leave you with two major issues: first, you may spend a few days or weeks without cool air while you wait for a service appointment, which could be uncomfortable in the hot summer months. And second, you may end up paying more than you need to due to frequent repairs or high energy bills.

Knowing when to replace your old AC unit will help you avoid both of those problems. But, how can you tell if it's finally time to invest in a new system? If you answer "yes" to one or more of these questions, you may need to replace your AC:
Is the current air conditioning unit more than 10 years old?
Are current repairs expensive and frequent?
Has the air conditioner started making unusual mechanical noises?
Has your electricity use gone up?
Are rooms furthest from the indoor unit not adequately cooled?
Would you prefer a more efficient air conditioner to cut energy cost?
Is having a more eco-friendly air conditioner important to you?
Would you enjoy better AC performance such as lower humidity, balanced temperatures and quieter operation?
Still not sure if your old system is getting too old? The experts at Apex Air are always happy to help. We can answer your repair and installation questions to help you determine the best course of action for your household, needs, and budget. Just give us a call today to get answers from a certified technician!
Reliable Air Conditioning Service
A properly functioning air conditioning system is an important part of any home. It is designed to provide you with a comfortable indoor climate regardless of how hot and humid it is outside. So whether you need a new air conditioner or want your current air conditioner serviced, give us a call. We are your local air conditioning service providers serving the entire Vancouver and Portland metro area.
Air Conditioning Installation In Vancouver WA & Portland OR
Serving the surrounding area
VANCOUVER | SALMON CREEK | ORCHARDS | BATTLE GROUND | RIDGEFIELD | CAMAS | WASHOUGAL | WOODLAND | LONGVIEW | KELSO | LA CENTER | HAZEL DELL | WALNUT GROVE | LAKE SHORE | CASCADE PARK | FIVE CORNERS | PORTLAND | GRESHAM | BEAVERTON | OREGON CITY | CLACKAMAS