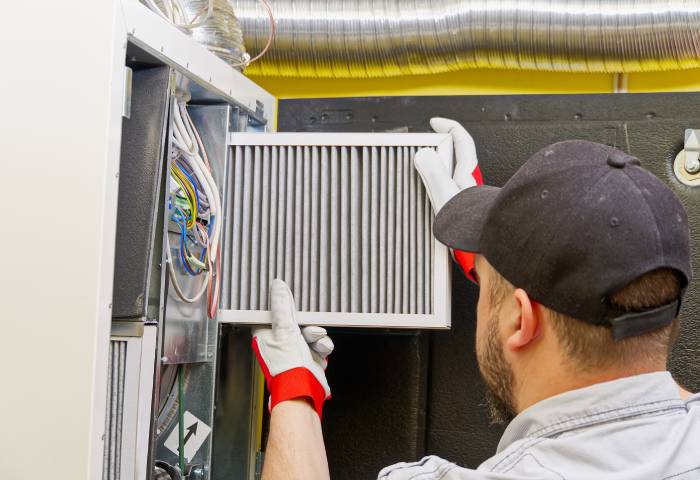 IS CHANGING YOUR FURNACE FILTER IMPORTANT?
Serving Portland OR - Vancouver WA - Longview WA
Furnaces can be an incredibly effective way to keep your home warm and comfortable. However, without proper maintenance, you could face all sorts of issues – including poor heating, low air quality, and operating problems. Taking care of your furnace can save you time and money while keeping your home cozy.
Regularly changing your furnace filters is an easy and effective way to keep your furnace running smoothly. Though it may feel daunting to change the filter yourself, furnace filters don't have to be complicated or stressful. To help you keep your furnace in good shape, we'll outline everything you need to know about furnace filters.
WHAT ARE FURNACE FILTERS?
Furnace filters are small air filters that are typically made from fiberglass, polyester, or cotton. These fit into your furnace to keep the blower fan safe from impurities such as hair, dust, and other tiny particles. A clean air filter can boost your furnace's performance and provide these other benefits:
Cleaner air and allergy relief. Without an air filter, a furnace would blow around all sorts of tiny particles – including dust, pet dander, pollen, and more. A clean furnace filter can prevent these contaminants from spreading in your home.
Reduced risk of clogging or malfunctioning. By removing all sorts of impurities, an air filter can help keep your furnace clean. This can prevent clogging or malfunctioning, which can keep your furnace performing well and fend off costly repairs.
Conserved energy and lower costs. A clean air filter can improve efficiency, as your furnace won't become blocked by impurities. Not only can this reduce repair costs, but it can improve energy efficiency. That way, your furnace can keep your house warm without expensive utility bills.
READY FOR A FREE ESTIMATE?
Leave your information below, and we'll be in touch in 20 minutes or less.
HOW OFTEN SHOULD YOU CHANGE YOUR FURNACE FILTER?
Every home is different when it comes to changing furnace air filters. However, as a guideline, it is recommended to change your furnace filter every 3 to 6 months. Many people choose to change their filter at the change of every season.
If you use your furnace all the time, or if somebody in your home has respiratory issues such as allergies or asthma, you may benefit from changing the filter more often. It can also be beneficial to switch the filter out at the beginning of winter to improve your furnace's efficiency throughout the colder months.
DO I NEED AN AIR FILTER IN MY FURNACE?
The short answer is yes – almost all furnaces require an air filter. They are crucial to keeping your furnace functioning well, and removing the air filter from your furnace could cause damage or lead to major malfunctions. Even if you don't see where the filter is located, your furnace very likely uses an air filter to keep clean and function properly.
WHERE IS MY FURNACE FILTER LOCATED?
Unfortunately, it can be challenging to locate the air filter on some furnaces. Many furnaces have the filter located near the air-intake grill area, though some may be hidden near return air ducts or other areas. It may be useful to look up the user manual for the exact make and model of your furnace to find the filter.
If you have looked everywhere and are still struggling to find the air filter, it may be time to call in a professional. That's where the experts at Apex Air can help! With over 55 years of combined experience serving the Vancouver WA and Portland OR area, our technicians are highly skilled in furnace maintenance. We can help you locate the furnace filter, choose the right replacement, and build a quick and easy maintenance routine. Call us today to get a free estimate!
Back to Furnace Installation
Furnace Filters In Vancouver WA & Portland OR
Serving the surrounding area
VANCOUVER | SALMON CREEK | ORCHARDS | BATTLE GROUND | RIDGEFIELD | CAMAS | WASHOUGAL | WOODLAND | LONGVIEW | KELSO | LA CENTER | HAZEL DELL | WALNUT GROVE | LAKE SHORE | CASCADE PARK | FIVE CORNERS | PORTLAND | GRESHAM | BEAVERTON | OREGON CITY | CLACKAMAS