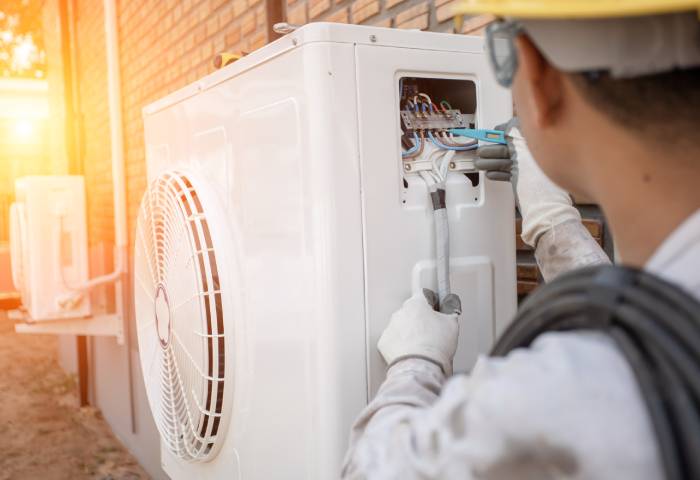 Heat Pump Repair
Serving Portland OR - Vancouver WA - Longview WA
When your heat pump is acting up, don't sweat it – call the experts at Apex Air! Our certified HVAC technicians offer fast and effective heat pump repair services throughout Vancouver WA and Portland OR. As a locally owned business with over 55 years of combined experience, you can trust our team to quickly diagnose and fix your system to keep the cool (or warm) air flowing all year long. Contact us today to get a free, no-obligation quote on your repairs!
Signs You Need Heat Pump Repairs
A malfunctioning heat pump can cause more issues than just uneven heating or cooling throughout your home. It can also raise your utility bills, cause moisture problems, and more. Some signs that you need heat pump repairs include:
Constant on/off cycling
A sudden spike in your energy bills
Ineffective heating or cooling
Moisture or leaking in the pump
Grinding, rattling, or other unusual sounds
Ice formation on the unit in the summer
Unfortunately, heat pump breakdowns can happen at any time. While some problems can wait til morning, others may need immediate attention. With Apex Air, you don't have to wait in a freezing or sweltering home for repairs! We're available 24/7 to provide heat pump and HVAC repairs when you need it most. If your heat pump has stopped working and you notice any of these problems, call us now: 
Heat pump has no power
Unusual smells or gas odors
Strange or loud sounds
Electrical issues
Substantial leaks
READY FOR A FREE ESTIMATE?
Leave your information below, and we'll be in touch in 20 minutes or less.
Heat Pump Repair FAQs
Can a heat pump be repaired?
Yes, in most cases a heat pump can be repaired! Most problems are a relatively easy fix, from clogs within the system to cracked or broken parts. A qualified professional can diagnose the problem and provide recommendations on a cost-effective solution.
Should I repair or replace my heat pump?
That depends on what type of issue you're dealing with. If your unit generally functions well and just has a one-off issue, then a repair will likely be the easiest and most affordable solution. However, if your heat pump is old and frequently breaking, it may be better to invest in a replacement. A newer unit will not only reduce your need for repairs, but it will also boost your home's energy efficiency and lower your utility bills. 
If you aren't sure whether a repair or replacement is right for you, call an expert! They can help diagnose the problem and walk you through different repair options that fit your needs and budget. 
How long do heat pumps usually last?
Heat pumps typically last around 15 years. However, poorly maintained units may start breaking down after a decade. With the right maintenance, some newer models can last even longer.
What maintenance is required for a heat pump?
If you want to keep your heat pump in great condition, it's important to spend a little bit of time performing routine maintenance. Thankfully, doing so doesn't have to take a lot of time or money. To keep your heat pump working properly, follow these maintenance tips:
Remove ice or snow buildup in the winter
Trim your landscaping away from the unit
Make sure gutters aren't leaking on your outdoor segment
If you use your heat pump daily, change the filters once a month
Clean outdoor coils whenever they look dirty
Set up a routine HVAC maintenance check with a professional
Heat Pump Repair Services in Vancouver WA and Portland OR
If your heat pump is acting up, call Apex Air now! With over 55 years of combined experience servicing heat pumps throughout southwest Washington and Oregon, our team has the expertise needed to quickly repair your unit. Our goal is to keep your entire HVAC system running properly all year long, which is why we walk you through all maintenance and repair options to find the right fit for your needs and budget. To get started, call us today and get your free, no-obligation quote!
Back to Heat Pump Installation – Service
Heat Pump Repair In Vancouver WA & Portland OR
Serving the surrounding area
VANCOUVER | SALMON CREEK | ORCHARDS | BATTLE GROUND | RIDGEFIELD | CAMAS | WASHOUGAL | WOODLAND | LONGVIEW | KELSO | LA CENTER | HAZEL DELL | WALNUT GROVE | LAKE SHORE | CASCADE PARK | FIVE CORNERS | PORTLAND | GRESHAM | BEAVERTON | OREGON CITY | CLACKAMAS