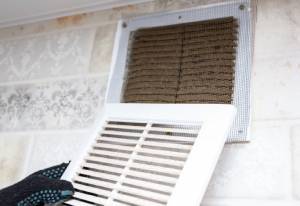 Professional Air Duct Cleaning Service
Serving Portland OR - Vancouver WA - Longview WA
One of the biggest factors in maintaining a healthy home environment is ensuring that your air ducts are clean. Dirty air ducts can lower your indoor air quality by pushing around mold, bacteria, and other contaminants from room to room, which can lead to various health issues such as asthma or cardiovascular disease. Having a regular air duct cleaning schedule can help you keep your home clean and hygienic.
If you need quality air duct cleaning services, contact the experts at Apex Air in Vancouver WA! Our friendly team is committed to providing you with meticulous cleaning services that reach every air duct in your system. That way, you can rest assured that your entire system is as clean and hygienic as possible. To get started, contact us and get your free estimate!
How Often Should Your Air Ducts Be Cleaned?
For most households, it's recommended that you have your air ducts professionally cleaned every three to five years. However, there are a few instances where you may benefit from more frequent cleaning. Here are a few signs that your air ducts should be cleaned more often:
You own pets: Pet hair and dander can easily make its way into your air duct system where it can then spread throughout the entire house. If you own pets, it may be a good idea to have your air ducts cleaned more frequently to keep these allergens at bay.
Recent pest infestations: Various pests are linked to respiratory issues and allergies. If you have recently experienced a pest infestation – particularly rodents or cockroaches – then you may want to invest in an extra air duct cleaning service to ensure your home is clean and hygienic.
Health issues: Dirty air ducts can have a negative effect on your health by spreading around dust, bacteria, viruses, and other tiny particles. If you or anyone in your household suffers from health issues – especially related to the respiratory or immune systems – then you may benefit from more frequent cleaning.
READY FOR A FREE ESTIMATE?
Leave your information below, and we'll be in touch in 20 minutes or less.
Signs Your Air Ducts Need to Be Cleaned
If you're like most homeowners, then you probably don't think about your air ducts very often. However, it's important to know when your system is getting dirty so you can schedule a cleaning service before your air quality deteriorates. Fortunately, you can look out for these signs that your air ducts need to be cleaned:
Moldy or musty smell
Excess dust or debris
Increase in allergies
Poor airflow or air quality
Your Local Air Duct Cleaning Professionals
Is it time to have your air ducts cleaned? The experts at Apex Air can help! Our trained specialists have years of experience serving homeowners throughout Vancouver WA, and it's our goal to provide you with exceptional results that you can rely on. To ensure you are receiving the best service possible, we provide full cleaning services that thoroughly clean each section of your system rather than focusing on just a few areas. If you're ready to receive high-quality air duct cleaning services, give us a call and get your free quote today!
Back to Indoor Air Quality Experts
Air Duct Cleaning In Vancouver WA & Portland OR
Serving the surrounding area
VANCOUVER | SALMON CREEK | ORCHARDS | BATTLE GROUND | RIDGEFIELD | CAMAS | WASHOUGAL | WOODLAND | LONGVIEW | KELSO | LA CENTER | HAZEL DELL | WALNUT GROVE | LAKE SHORE | CASCADE PARK | FIVE CORNERS | PORTLAND | GRESHAM | BEAVERTON | OREGON CITY | CLACKAMAS