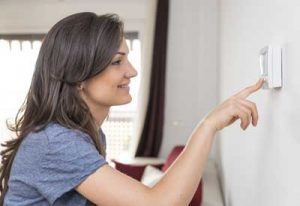 THERMOSTAT REPLACEMENT
Serving Portland OR - Vancouver WA - Longview WA
Thermostats are an important part of any HVAC system. But what happens if yours begins to malfunction? Not only can a faulty thermostat cause your home or building to become uncomfortably hot or cold, but it can also cost you a lot of money in utilities. So, if your thermostat is acting up, it may be useful to consider replacing it with a newer and more efficient model. Here are just a few of the benefits of a thermostat replacement:
Increased energy efficiency. According to the Department of Energy, the correct thermostat settings can reduce your energy consumption by 5 to 15%. Not only does the enhanced energy efficiency reduce your carbon footprint, but it also saves you money on utility bills.
Better temperature control. If your thermostat was old and beginning to malfunction, it likely didn't control the temperature in your home or building very accurately, leaving you too hot or too cold. A new thermostat that functions properly will offer better temperature control.
Easier to operate. There are lots of different types of thermostats available on the market. Though manual thermostats are the traditional option, there are now Smart versions that can connect to your smartphone or tablet for easier control.
Increased HVAC longevity. Most new thermostats offer you a high level of control over things like temperature, area, and usage. This allows you to target areas of your home or building that actually have occupants rather than empty areas. It also lets you reduce usage when you're away, which can increase the longevity of your heating and cooling system.
READY FOR A FREE ESTIMATE?
Leave your information below, and we'll be in touch in 20 minutes or less.
SIGNS YOU NEED TO REPLACE YOUR THERMOSTAT
Many of us don't think about our thermostats until our homes are suddenly way too hot or cold. However, a faulty thermostat could also be costing you a lot of money in utility bills. Knowing when to invest in a new thermostat can help you increase comfort and energy efficiency. Here are some signs that it may be time to replace your thermostat:
The thermostat doesn't respond to changed settings
You experience constant unwanted changes in temperature
The thermostat is reading the temperature incorrectly
Energy bills are increasing despite no changes in usage
Your HVAC keeps randomly turning on or off
YOUR LOCAL THERMOSTAT REPLACEMENT EXPERTS
With the thermostat experts at Apex Air, it doesn't have to be difficult to replace your old thermostat! Our skilled technicians proudly serve the greater Portland OR and Vancouver WA area, and we are dedicated to providing you with superior service at an affordable price. With our thermostat replacement services, you can easily increase the comfort and energy efficiency of your home or commercial property. Just give us a call to get your free estimate today!
Back to Thermostat Installation
Thermostat Replacement In Vancouver WA & Portland OR
Serving the surrounding area
VANCOUVER | SALMON CREEK | ORCHARDS | BATTLE GROUND | RIDGEFIELD | CAMAS | WASHOUGAL | WOODLAND | LONGVIEW | KELSO | LA CENTER | HAZEL DELL | WALNUT GROVE | LAKE SHORE | CASCADE PARK | FIVE CORNERS | PORTLAND | GRESHAM | BEAVERTON | OREGON CITY | CLACKAMAS