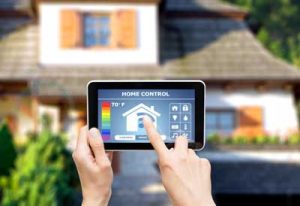 BENEFITS OF HAVING A SMART THERMOSTAT
Serving Portland OR - Vancouver WA - Longview WA
Smart thermostats are among the most exciting new technologies that are available right now. Not only does this technology allow you to efficiently heat and cool your home or business, it also gives you options on how you set and control the thermostat.
You can do it from your mobile device, smart phone or tablet with the swipe of a finger and the touch of a few buttons. Making the environment that you're in comfortable takes very little effort and can be done from anywhere as long as you have access to a mobile device.

READY FOR A FREE ESTIMATE?
Leave your information below, and we'll be in touch in 20 minutes or less.
THE BENEFITS OF HAVING A SMART THERMOSTAT INCLUDE:
Ease of use. Control your thermostat from the convenience of your phone or tablet. You don't even have to get out of your seat to adjust the temperature. Turn the heat up or down in the winter while still in bed. Return home from your vacation to a perfectly cooled house in the summer and best of all, you can do it from your seat on the airplane.
Increased energy efficiency. Why pay to heat and cool rooms you're not even in? One of the benefits of having a smart thermostat in your home or business is that you don't pay for energy you aren't using. This lowers your costs and allows you to use your money for other household or business needs. It's practical, affordable, and better for the planet, too.
Maintain the longevity of your heating and air conditioning system.
When your heating and AC system is running optimally, it lasts a long time. Having a smart thermostat gives you better control over the temperature of your home or business and how much wear and tear your heating and air conditioning system gets each season. Simply turning down the air conditioner when temperatures cool down can help keep your HVAC in great shape.
THE BENEFITS OF HAVING A SMART THERMOSTAT OUTWEIGH THE CONS
When making a decision about how to reduce your home or business energy costs, try to see the big picture. Although a smart thermostat may cost more than a traditional thermostat initially, the savings you receive in lower energy bills add up to significant savings over time.
Back to Thermostat Installation
Benefits of Smart Thermostat In Vancouver WA & Portland OR
Serving the surrounding area
VANCOUVER | SALMON CREEK | ORCHARDS | BATTLE GROUND | RIDGEFIELD | CAMAS | WASHOUGAL | WOODLAND | LONGVIEW | KELSO | LA CENTER | HAZEL DELL | WALNUT GROVE | LAKE SHORE | CASCADE PARK | FIVE CORNERS | PORTLAND | GRESHAM | BEAVERTON | OREGON CITY | CLACKAMAS