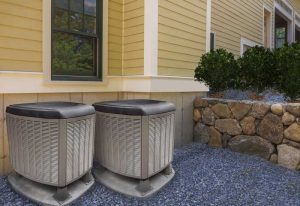 How Can I Get the Most Life Out of My Air Conditioning?
Serving Portland OR - Vancouver WA - Longview WA
When purchasing an air conditioning system, a common question that HVAC specialists are asked is "how long do air conditioning units last?" While the average air conditioner lifespan ranges from 15 to 20 years, the actual longevity of an air conditioning system depends on many factors. But if you're looking to get the most life out of an AC unit, it's undeniably important that you schedule regular maintenance and monitor your usage.

READY FOR A FREE ESTIMATE?
Leave your information below, and we'll be in touch in 20 minutes or less.
MAINTENANCE
An air conditioner unit is a complex system that depends on many internal components working in unison for ultimate results. Over time as the air conditioning system is used, the components do experience wear.  When wondering how long air conditioning units last, it's important to understand that having your unit maintained can increase its life expectancy.
Apex Air HVAC specialists recommend you maintain your air conditioning units at the start of the warm weather season. Our technicians complete a thorough diagnostic inspections to make sure we don't charge you for a treatment that isn't needed. In the name of transparency, you can find a breakdown of our HVAC maintenance prices based on plan tier and service needed. By working with a heating and cooling technician for your air conditioner maintenance, you can save valuable time and money, while also minimizing the risk of emergency repair services during the peak of the hot weather season.
ACTUAL USAGE
In the Pacific Northwest, our hot summers necessitate regularly-scheduled air conditioner maintenance. An HVAC technician may suggest inspecting and maintaining your unit more frequently during high-usage times between June and August. Adjusting settings such as the auto and fan options located on most thermostats can also reduce air conditioning wear and tear.  Apex Air has certified technicians that will guide you through the best way to maintain your air conditioning unit.
When Should I Replace My Air Conditioner?
What are the signs that an AC needs to be replaced? Once again, the answer to this question differs heavily on a case-by-case basis. If you blast the air conditioning as soon as the sun comes out for the warm season, your unit is going to be put under more strain and will get years shaved off its lifespan. Even if you make an effort to use it in moderation, if your home is poorly insulated or riddled with gaps around the doors and windows, that too puts more pressure on your HVAC systems to function at the level you want.
An air conditioner can last upwards of 20 years, but typically you'll find them lacking in efficiency around ten. They may start leaking or making loud whirrs and rattling noises, or just shut off unexpectedly. You can stick with the AC unit that you have, but it's important to note that an outdated air conditioner will take up much more energy to work a fraction as well, resulting in a significant spike in your monthly utility bill. If you're at a point when your air conditioner is louder than you want and less effective than you'd prefer, it may be time to arrange for a quality AC replacement.
A new air conditioner is a new start, and with Apex Air we can help make sure the relationship with your replacement unit is happy and productive.
Back to Air Conditioning Installation
How Long Do Home Air Conditioners Last In Vancouver WA & Portland OR
Serving the surrounding area
VANCOUVER | SALMON CREEK | ORCHARDS | BATTLE GROUND | RIDGEFIELD | CAMAS | WASHOUGAL | WOODLAND | LONGVIEW | KELSO | LA CENTER | HAZEL DELL | WALNUT GROVE | LAKE SHORE | CASCADE PARK | FIVE CORNERS | PORTLAND | GRESHAM | BEAVERTON | OREGON CITY | CLACKAMAS