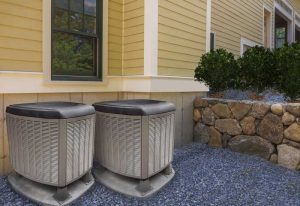 How Long Do Home Air Conditioners Last?
Serving Portland OR - Vancouver WA - Longview WA
When purchasing an air conditioning system, a common question that HVAC specialists are asked is "how long do air conditioning units last?" While the average air conditioner lifespan ranges from 15 to 20 years, the actual longevity of an air conditioning system depends on many factors. To get the most life out of an AC unit, you must schedule regular maintenance and monitor your usage.

READY FOR A FREE ESTIMATE?
Leave your information below, and we'll be in touch in 20 minutes or less.
MAINTENANCE
An air conditioner unit is a complex system that depends on many internal components working in unison for ultimate results. Over time as the air conditioning system is used, the components do experience wear.  When wondering how long do air conditioning units last, it's important to understand that having your unit maintained can increase its life expectancy.
Apex Air HVAC specialists recommend you maintain your air conditioning units at the start of the warm weather season. Our technicians complete thorough diagnostic inspections to ensure that repairs are not needed. Our maintenance services save home and business owners valuable time and money and minimize the risk of emergency repair services during the peak of the hot weather season.
ACTUAL USAGE
In the Pacific Northwest, our hot summers necessitate regularly-scheduled air conditioner maintenance. An HVAC technician may suggest inspecting and maintaining your unit more frequently during high-usage times between June and August. Adjusting settings such as the auto and fan options located on most thermostats can also reduce air conditioning wear and tear.  Apex Air has certified technicians that will guide you through the best way to maintain your air conditioning unit.
Back to Air Conditioning Installation
How Long Do Home Air Conditioners Last In Vancouver WA & Portland OR
Serving the surrounding area
VANCOUVER | SALMON CREEK | ORCHARDS | BATTLE GROUND | RIDGEFIELD | CAMAS | WASHOUGAL | WOODLAND | LONGVIEW | KELSO | LA CENTER | HAZEL DELL | WALNUT GROVE | LAKE SHORE | CASCADE PARK | FIVE CORNERS | PORTLAND | GRESHAM | BEAVERTON | OREGON CITY | CLACKAMAS