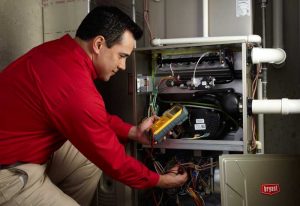 Commercial Air Conditioning Repair
Serving Portland OR - Vancouver WA - Longview WA
When the temperatures rise, you'll want to make sure your building is cool and comfortable. If you need a new air conditioning system or repair, contact Apex Air. We've been providing professional commercial air conditioning installation and repair services to businesses in the area for years! Our high-quality products, skilled contractors, and exceptional customer service are what keep our customers coming back.
Air Conditioning Repair
Is your commercial air conditioning system making odd noises, having trouble starting, or constantly running? These are all signs you may need to have your unit serviced and repaired. We provide fast and reliable air conditioning repair services. We'll have your system back up and running again in no-time.

READY FOR A FREE ESTIMATE?
Leave your information below, and we'll be in touch in 20 minutes or less.
Benefits of Commercial Air Conditioning Installation
If your commercial HVAC unit does not perform properly or experiences frequent breakdowns, it may be time to replace it. There are several benefits that come with a new commercial air conditioning system.
Cost savings
Happy employees and customers
Reduced carbon footprint
Types of Commercial Air Conditioning Systems
There are several types and configurations of commercial HVAC systems that provide business owners flexibility in placement, cost, and efficiency.
Rooftop units, also known as package systems can be installed on roofs if interior space is limited. All the mechanical elements are enclosed in weatherproof housing outside.
Weatherized ducts route conditioned air into the building. Heating options include heat pumps, natural gas, electricity and hybrid systems.
Ductless mini-split systems do not require ductwork. Air handler units are mounted inside on the wall, ceiling or floor. A compressor located outside is joined to blower units through a conduit that contains wiring and refrigerant. The conduit is routed through a small hole in the wall.
In some models, one compressor can support up to eight air handlers. Mini-splits are a good option for businesses such as restaurants, small offices and places where ductwork is difficult to install.
Experts in Air Conditioning Installation
When you need a new air conditioning system installed at your business, count on Apex Air. With more than 55 years of combined experience, you can feel confident that we'll get the job done right. We provide free estimates, friendly service, quality results.
Back to Commercial HVAC Contractor
Commercial Air Conditioning Installation In Vancouver WA & Portland OR
Serving the surrounding area
VANCOUVER | SALMON CREEK | ORCHARDS | BATTLE GROUND | RIDGEFIELD | CAMAS | WASHOUGAL | WOODLAND | LONGVIEW | KELSO | LA CENTER | HAZEL DELL | WALNUT GROVE | LAKE SHORE | CASCADE PARK | FIVE CORNERS | PORTLAND | GRESHAM | BEAVERTON | OREGON CITY | CLACKAMAS