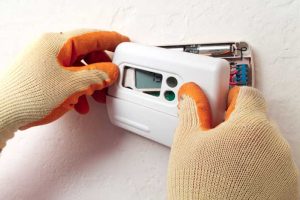 Commercial Thermostat Repair
Serving Portland OR - Vancouver WA - Longview WA
As a business owner, the last thing you want to worry about is your HVAC system, and with a programmable thermostat, you won't have to. At Apex Air, we sell, install, and repair commercial thermostats. Contact us for your free estimate!

READY FOR A FREE ESTIMATE?
Leave your information below, and we'll be in touch in 20 minutes or less.
Types of Commercial Thermostats
Electromechanical commercial thermostats: These are the older types with little metal coils and a mercury tube inside. As the temperature in a room shifts, the coils either contract or expand, pushing the mercury to one end of its tube or the other which signals the HVAC system to either turn on or off. While they aren't as accurate as digital models, they are quite economical and simple to use. This type of thermostat is being phased out because of its use of mercury and the effects it has on the environment.
Digital commercial thermostats: Digital thermostats are gaining popularity, with good reason. Most models today are programmable thermostats, which means you can set times for your system to run or shut down based on when you need it. This thermostat is much more accurate at keeping your customers comfortable. And because you have much more control, you can significantly save on your energy costs by reducing your heat and air conditioning when you don't need as much.
Commercial Thermostat Repair
Thermostats are just as important as your HVAC system. When they malfunction, your HVAC system will too. If you notice any of the following, contact us for a commercial thermostat repair:
Thermostat display problems
Fluctuating temperatures
HVAC system continually runs
Thermostat is unresponsive
Reliable Commercial Thermostat Installation
A new thermostat will allow you to capitalize on energy savings by raising and lowering the temperatures accordingly. This energy savings translates into a lowered carbon footprint.
You want your business to run smoothly, and a new commercial thermostat will do just that. In addition to the savings you benefit from, you'll also have peace of mind knowing that everyone inside the building is comfortable.
If you're interested in our commercial thermostat installation services, contact us. Our HVAC contractors are highly-experienced and NATE certified. They'll find the best thermostat for your HVAC system and your budget.
Back to Commercial HVAC Contractor
Commercial Thermostat Installation In Vancouver WA & Portland OR
Serving the surrounding area
VANCOUVER | SALMON CREEK | ORCHARDS | BATTLE GROUND | RIDGEFIELD | CAMAS | WASHOUGAL | WOODLAND | LONGVIEW | KELSO | LA CENTER | HAZEL DELL | WALNUT GROVE | LAKE SHORE | CASCADE PARK | FIVE CORNERS | PORTLAND | GRESHAM | BEAVERTON | OREGON CITY | CLACKAMAS