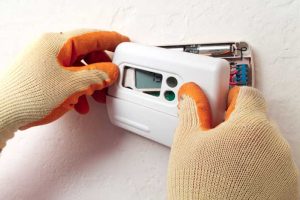 Commercial Thermostat Services in the Portland Metro Area
Serving Portland OR - Vancouver WA - Longview WA
As a business owner, you leave no detail unchecked, including always having it set to the perfect temperature inside your commercial property. With a state-of-the-art commercial thermostat from Apex Air, that's easy. We sell, install, and repair thermostats for businesses that provide improved energy efficiency, long-term reliability, and pinpoint climate control. Schedule your commercial thermostat installation, repair, or maintenance today.

READY FOR A FREE ESTIMATE?
Leave your information below, and we'll be in touch in 20 minutes or less.
Trusted Local Commercial Thermostat Repair Experts
Your thermostat is like the central nervous system of your commercial property's HVAC system. It processes indoor climate information and relays signals to the air conditioner and heater. That's why, if your commercial thermostat isn't working properly, it can have a ripple effect on your cooling and heating systems.
If you notice any of the following, contact us for commercial thermostat repair services:
Thermostat display problems

Fluctuating temperatures

The HVAC system continually runs

Thermostat is unresponsive
Are there Different Types of Commercial Thermostats?
Although some thermostats provide different capabilities and features than others, generally speaking, there are two main types of thermostats. Older buildings may still have the older style. While these were well-made and designed to last for a long time, if you still have one in your commercial property, it's likely time for a thermostat replacement. In newer commercial properties or properties that have had a thermostat replaced in the last 20 years, you will likely find one of the newer types.
Most commercial thermostats can be classified as an electromechanical thermostat or a digital thermostat:
Electromechanical Commercial Thermostats

: These are the older types with little metal coils and a mercury tube inside. As the temperature in a room shifts, the coils either contract or expand, pushing the mercury to one end of its tube or the other which signals the HVAC system to either turn on or off. While they aren't as accurate as digital models, they are quite economical and simple to use. This type of thermostat is being phased out because of its use of mercury and the effects it has on the environment.

Digital Commercial Thermostats

: Most digital thermostat models today are programmable thermostats, which means you can set times for your system to run or shut down based on when you need it. This thermostat is much more accurate at keeping your customers comfortable. And because you have much more control, you can significantly save on your energy costs by reducing your heat and air conditioning when you don't need as much.
Reliable Commercial Thermostat Services & Installation
A new thermostat will allow you to capitalize on energy savings by raising and lowering the temperatures accordingly. This energy savings translates into a lowered carbon footprint.
You want your business to run smoothly, and a new commercial thermostat will do just that. In addition to the savings you benefit from, you'll also have peace of mind knowing that everyone inside the building is comfortable.
If you're interested in our commercial thermostat installation services, call us today. Our HVAC contractors are highly experienced and NATE-certified and ready to help you find the best thermostat to fit your business and your budget.
Back to Commercial HVAC Contractor
Commercial Thermostat Installation In Vancouver WA & Portland OR
Serving the surrounding area
VANCOUVER | SALMON CREEK | ORCHARDS | BATTLE GROUND | RIDGEFIELD | CAMAS | WASHOUGAL | WOODLAND | LONGVIEW | KELSO | LA CENTER | HAZEL DELL | WALNUT GROVE | LAKE SHORE | CASCADE PARK | FIVE CORNERS | PORTLAND | GRESHAM | BEAVERTON | OREGON CITY | CLACKAMAS